Land Development
Neighborhood Master Planning
Creating functional, well-balanced and aesthetically pleasing communities requires the recognition and evaluation of the elements that will be significant to a good Sub Division. The technical skills of Oklahoma Landscape Architects to lay out your subdivision, is just one ingredient in the coordinated actions with you as the Developer with the Planning Board and other Municipal Officials. Master Planning for Neighborhoods is an area that continues to grow within the field of Landscape Architecture, and is an essential part of the Comprehensive Planning Process.
During your first initial and Free Site Visit & Consultation, Oklahoma Landscape Architects will gather enough information to develop a Program with Goals and Strategies to first define your Neighborhood, and explore Characteristics and Context within the surrounding Land Uses. Within this Program Goals & Strategies will be information concerning Community Organization, Economic Development, and Identity of Relevant Stakeholders.
Neighborhood Characteristics will depend on the Program Goals & Strategies, and will help develop these characteristics including Scale/Size and Neighborhood Elements. Within the boundaries of the Master Planned Community, consideration of the scale of streets and density will help develop the layout and function along with the topography of the existing site. The networks and associations of the surrounding land uses and community will also help determine main access points, site amenities, traffic and promotional elements such as signage or monuments. The Neighborhood Plan provides more detailed goals, guidelines and policies than those in the Comprehensive Plan. They often emphasize potential coordination among government agencies, community groups, school boards and the private sector. These plans describe land-use patterns in more detail, and may even be used to amend a zoning map or street classification system.
A man's home is his castle, and this is true whether the castle is the traditional single-family detached dwelling, or a modern apartment. Most families and individuals don't just live entirely within their castle, but they live on a street in a neighborhood, and that neighborhood gives that sense of place and belonging. What makes a neighborhood? It's not just streets lined with individual homes, but contains schools, churches, parks and businesses. Streets, Storm Drainage System, Water, Electricity, Telephone, Power Gas, and the Sewage Disposal System are the resulting infrastructure needed within those neighborhoods, and even the street names and house numbers are included as well as the individual residence.
Our team at Oklahoma Landscape Architects will work closely with Surveyors, Civil Engineers and Architects to design, plan and implement your Master Planned Community within the constraints of time and budget. Luke Willis, PLA has experience with such projects as you can see with this Equestrian Village in Edmond, Oklahoma. While working for Carter-Burgess Inc. he designed the Amenity Center, Entry Monuments, Fencing, Gates, Grading & Drainage for the Lakes and Waterfalls. This Mixed Use neighborhood includes 15 acres of Office Area, 43 acres of Residential Lots, Equestrian Facility and 46 acres of Open Space.
Whatever your needs may be, either Master Planning, Street Layout and Design, Front Yard Typical Landscape Design, Model Home Landscape Design, Entry Monuments, Gate and Fence Design and Layout, Irrigation, Landscape Lighting and Planting, Oklahoma Landscape Architects has the experience to make your next Development stand out within the community.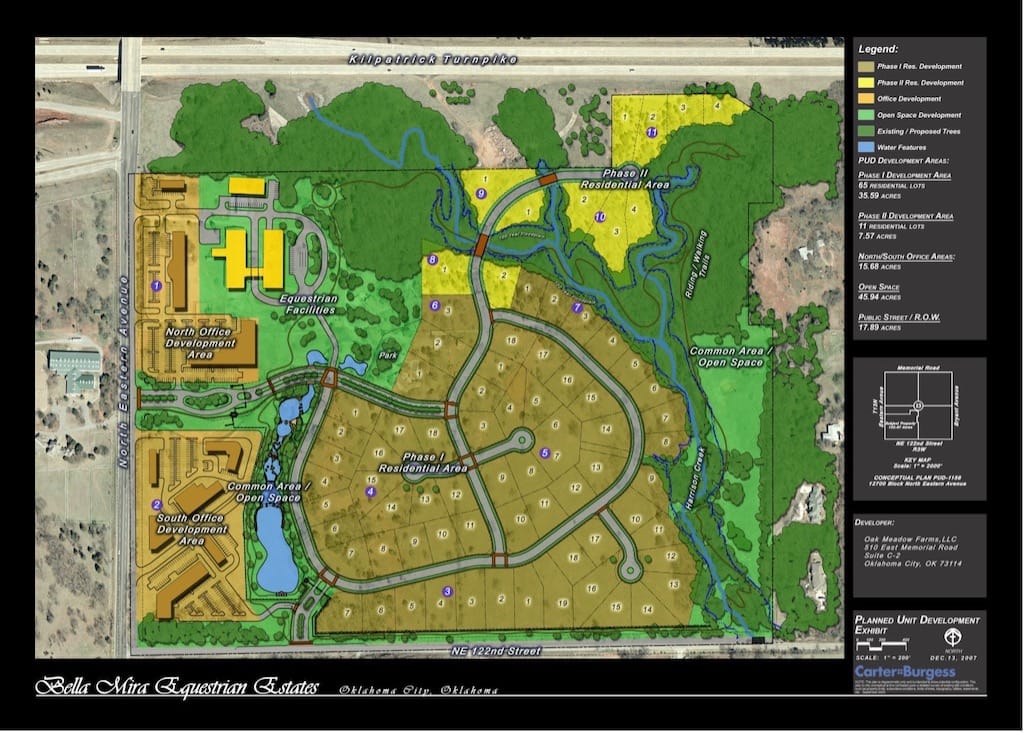 Model Home Landscape Design is an important part of the promotion of a neighborhood, and this project is representation of what can be done with a few lots to give your future home owners their sense of place. This project for Centex Homes in Visalia, CA uses three homes on four lots, with parking, to give future customers a walk through experience of their options from the various builders, as well as Landscaping options and site features. The "Trap Fence" contains the walk through and guides the client through the different site layouts, then is removed as needed. The first lot is the Sales Office Entry with stamped and colored concrete with planted urns at entry that separate incoming foot traffic, and outgoing future home owners. Everyone who leaves speaks with the sales team so they can ask questions and get more information. This provides multiple interactions with the future client, and proves to be a successful sales tool. The parking lot is then removed, and that lot is then developed upon completion of lot sales.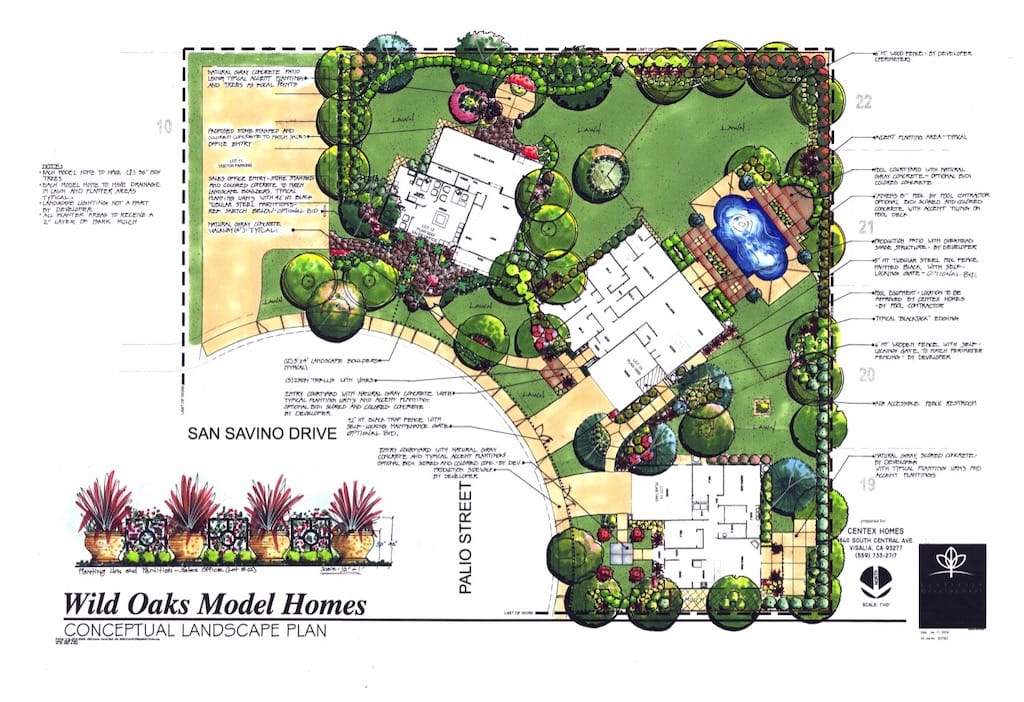 Oklahoma Landscape Architects has extensive experience in the design of Entry Monuments for Neighborhoods and Commercial Centers.  We consider this the First Impression or "Wow Factor" for your project, and we believe it is one of the most important features to a neighborhood.  Signage, Gates, Columns, Keypad Entries, Guard Stations, Lighting, Plants and Irrigation are all important elements to a Monument Entry, and can be done in many different ways.  These entries, whether for a gated community or not, will cause your property owners to feel safe upon entry.  Below are just a few work examples from experiences in California and Oklahoma.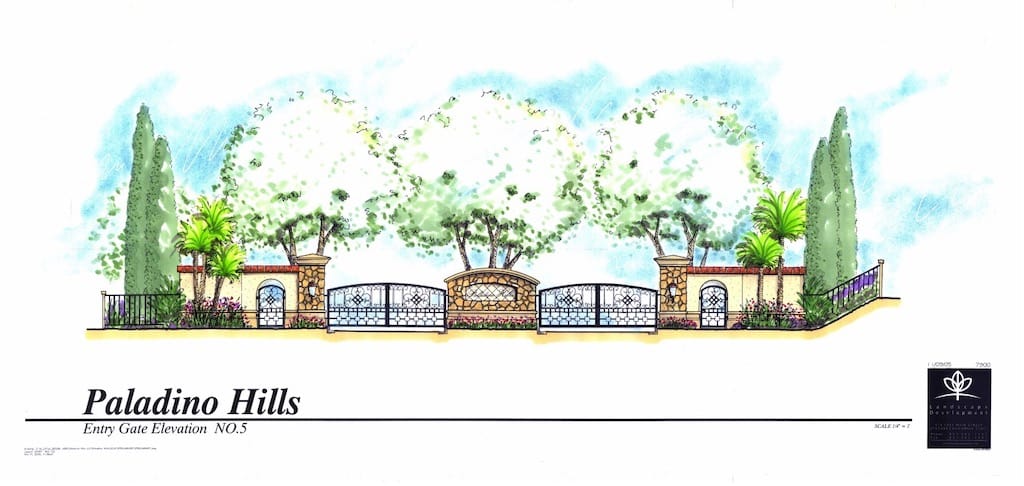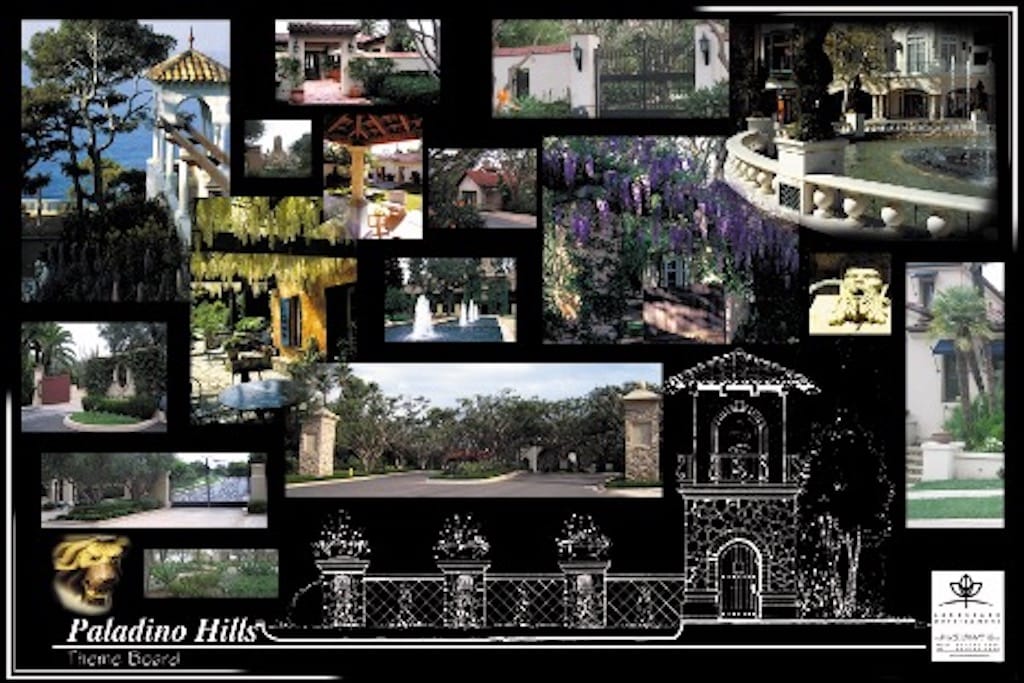 Oklahoma Landscape Architects knows that each neighborhood has its own characteristics, shape and size.  Population densities can vary from a few thousand to several thousand per square mile, with a wide variation in the number of children.  Therefore, each neighborhood must be carefully planned and studied during the different design phases, and we understand that it is a multidisciplinary exercise with City Leaders, Planners, Civil Engineers and Developers.  We understand that the areas and facilities provided in one subdivision will often influence a need for another somewhere else.  Therefore, cooperation among the different disciplines and agencies involved in planning is essential in order to achieve a successful development. 
We want you to enjoy the design process as much as we do at Oklahoma Landscape Architects, and to share in your vision for a vibrant community that enables its residences to live in a neighborhood they can be proud to call their own.  Remember, that you can visit with us to discuss your vision, goals and dreams about your development at no cost to you.  We can talk about the site, explore options, and begin the design process, so call today!